CrossCountry Bob left Vancouver a new grandpa. But that didn't make him any smarter, apparently.
Pointing Winnie south, Grandpa CrossCountry Bob (courtesy of Kenny and Steph) and Grandma Paintin' Peggie (courtesy of Mariah and Troy), scooted down to the Oregon coast. Objective: get far enough south to be warm. Running interference on that objective were Ballard's Beach State Park (great ocean painting country)…
And Bandon. Getting there through the rain and the bakeries was a chore (eased somewhat by contemplating Bandon's super fish and chips, not to mentionTony's crab shack.
Nice places of course, but not yet warm enough for CrossCountry Bob. Next stop sliding south was the redwoods. CrossCountry Bob wanted to hike through those giants. As it was cool, damp and dark in the redwoods, Paintin' Peggie was not a fan at first but those redwood stands converted her. The hike was cool but fascinating (especially to the old forester in CrossCountry Bob), the camping (one night only, thank you very much) was dark and brooding…
The next morning Winnie (and Paintin' Peggie) yanked CrossCountry Bob south and did not relent until MacKerricher State Park just north of Fort Bragg. This park next to the ocean was quickly added to Paintin' Peggie's list of "must return", with classic beaches, a pleasant campground and nice painting perches.,
This coastal retreat held CrossCountry Bob and Paintin' Peggie in place for two nights and then the southward march resumed. Next stop was a last year favourite – Bodega Bay. The best campgrounds, Wright's Beach and Bodega Dunes State Park, were closed due to the recent storms with high winds that had downed trees in the parks. Seems there was no sense of urgency by California Parks to clear the parks thought CrossCountry Bob, or perhaps (being charitable) all available personnel were occupied clearing trees on and near the coastal Highway 1. Over some stretches, trees by the hundreds had succumbed to the powerful winds. Meanwhile, Paintin' Peggie checks out what is billed as one of the area's most dangerous beaches…not a problem for Paintin' Peggie it appears…
After escaping that beach, Paintin' Peggie and CrossCountry Bob arrived in Bodega Bay which had survived all the winter storms in fine shape and, bonus, the warmth had a definite uptick even if that was moderated by crisp ocean breezes. But those crisp ocean breezes didn't deter Paintin' Peggie from some outdoor painting (plein air painting is the expression the artists use) which can inspire additional creativity (so CrossCountry Bob is told as he would otherwise have absolutely no idea, having not one flicker of artistic light to boast about). Now Paintin' Peggie, that's another story. Follow her on Instagram if you aren't already: @peggie.collins.
Once again, two days were enough as the warmer southern weather continued to lure Winnie south. Surprisingly, so far the February weather of 2023 has been colder than it was in January of 2022.
The next day was a long haul from Bodega Bay to just outside Bakersfield and an RV Park called Orange Grove RV Park. Quite the surprise for CrossCountry Bob when it turned out the name was true to form (thinking of you "Paradise Valley RV Park") as Orange Grove RV Park was populated with orange trees and, lucky timing, the orange crop was ripe and picking was permitted.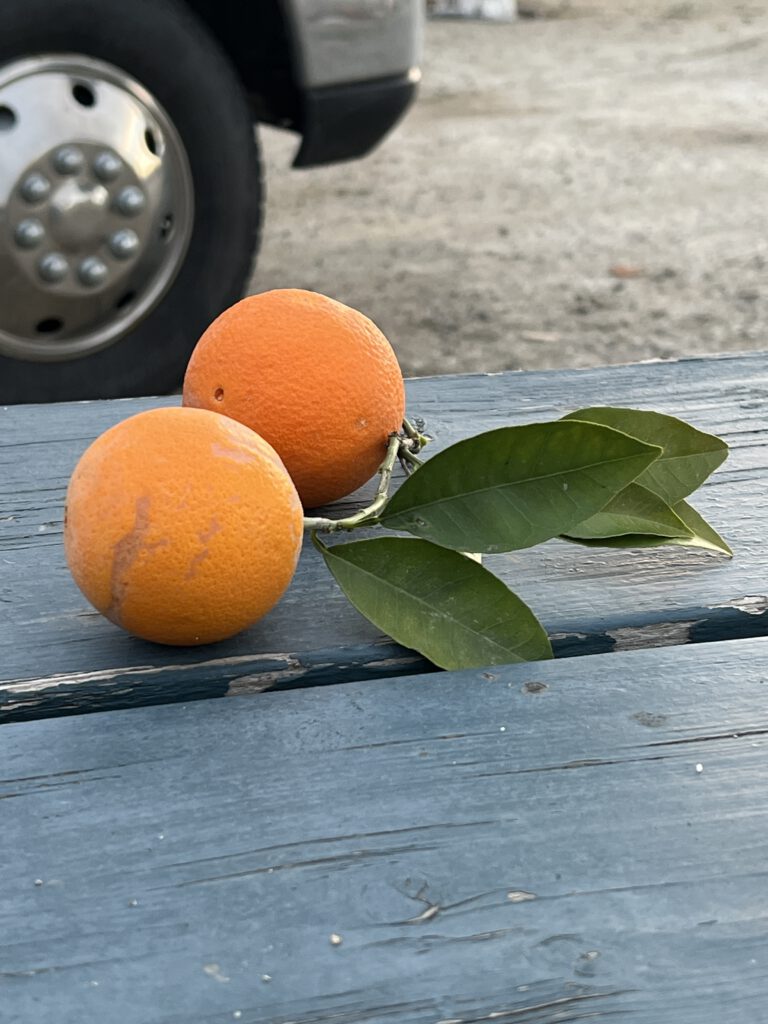 Didn't take long to fill a couple of shopping bags. Best oranges CrossCountry Bob has had – tree ripened to a just right sweetness with a tangy overlay. And bonus, deducting the cost of those oranges from the nightly cost made CrossCountry Bob feel like a true budget warrior (a fantasy of course as Paintin' Peggie could (and has) confirmed that there are few budget bones in CrossCountry Bob).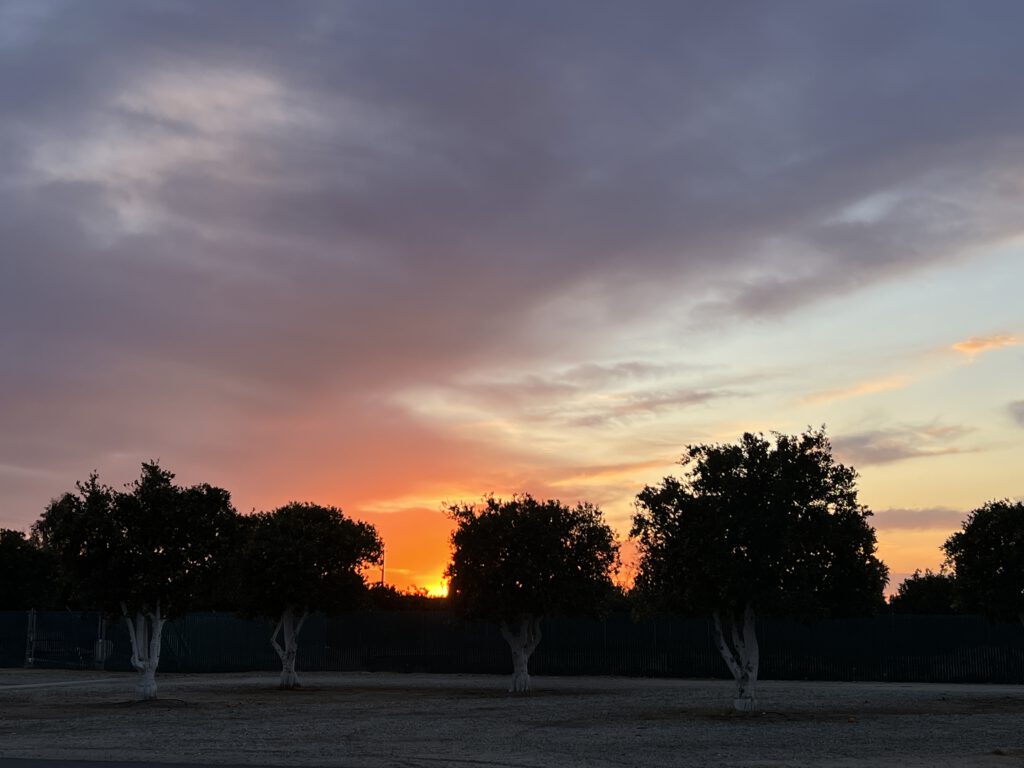 Continuing with the quest for warm, Bakersfield did not qualify (not to mention that Paintin' Peggie failed to find one redeeming feature in the bleak flatness and industrial air that comprised Bakersfield), and Winnie was pointed towards Indio, where CrossCountry Bob's sister, Marguerite, and hubby, Tony, were spending a month in (what turned out to be) a spacious condo. A two day visit (with bathroom included, oh joy!) was a pleasant interlude. Much conversation, lubricated by gin and tonic and wine, about the troubles of the day (keeping in mind that the troubles CrossCountry Bob sees may be the joys of others) . Add in an afternoon visit to Palm Springs (where CrossCountry Bob and Paintin' Peggie had never been) to check out the downtown (right out of the sixties!) and the unique Marilyn Monroe metal statute which seemed to evoke her bright but sad life…
The weather in Indio was the warmest yet but still a bit cool (yes, said the locals, a bit cooler that usual – did you bring this weather south with you?).
Noting the weather trend, where did CrossCountry Bob take the intrepid Paintin' Peggie next? Joshua Tree National Park, way up in the hills. Where. it. was. COLD. And that is how CrossCountry Bob evolved from a warmth seeking Grandpa to the Fool on the Hill ( as in "But the fool on the hill sees the sun going down" The Beatles). And when the sun went down it carelessly left behind a nighttime temperature of minus 5 and – the next day – a Fool On The Hill type of temperature, as in 4 degrees centigrade (afternoon maximum!) with a penetrating wind as icing (literally) on the hiking cake.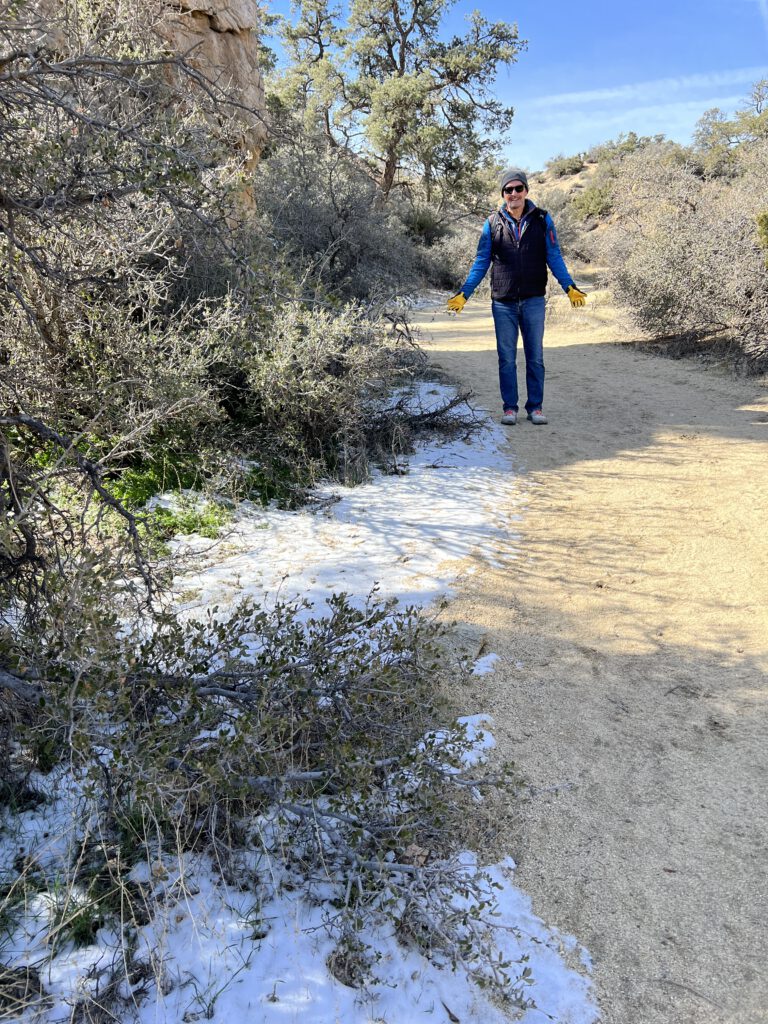 But the view from the Top Of The Hill made it worthwhile …
The descent was pleasant, a spring in the step like horses sensing a return to a warm barn. But even then, the trail was long and there were many glances ahead over the next rise wondering "are we almost there yet". At a trail junction, as CrossCountry Bob went left, Paintin' Peggie asked "Are you SURE that is the shortest way back?". Of such stuff are memories made!
Back tucked inside Winnie there were no plugins at the Fool on the Hill Campiste, and so it was generator time for the permitted two hours (to run the electric heater), and then the propane furnace maintaining a modest 11 degrees overnight (yes, CrossCountry Bob is older and coddled). And so, The Fool on the Hill and Paintin' Peggie were warm under the covers but the concept of California warm (morning coffee outdoors with the sunrise peaking over the hills, for example) was entirely absent. The campground had many empty spots and it occurred (finally) to the Fool on the Hill that there might be wiser RV people about that CrossCountry Bob and they certainly weren't to be found in that Joshua Tree campground.
Winnie needed no persuading to head south to the Salton Sea for a recovery day. Some writing was salve on the Fool's chilled brain cells, and Paintin' Peggie painted and then all was sunshine and harmony. CrossCountry Bob and Paintin' Peggie were back in their groove.
The next move from the Salton Sea was not rocket science. Point Winnie at Arizona where it is reliably rumoured that the temperature is warm enough for shirt sleeves and perhaps even warm enough for CrossCountry Bob to forget that he once was the Fool on the Hill in Joshua Tree National Park.
And finally then, following the advice of Paintin' Peggie that one picture of each grand baby is far from sufficient, CrossCountry Bob and Paintin' Peggie now remedy that detail with two pictures of each grand baby…
That is all for now…