A key part of this little southern adventure is to observe and experience Art (CrossCountry Bob not being an art expert, tends to find his Art by trotting along behind Paintin' Peggie). And Paintin' Peggie found Tubac and so, no surprise whatsoever, CrossCountry Bob and Paintin' Peggie left cold Sedona and arrived in Tubac, Arizona, an artistic community 70 kilometres south of Tucson. Paintin' Peggie's timing was impeccable with an art festival underway with more than 100 artists and artisans marketing their wares, much of it of admirable quality.
One thing CrossCountry Bob noticed is that the Americans were more likely than Canadians to part with their dollars for quality art. This might be a function (speculated CrossCountry Bob) of the fact that most of the festival attendees were retired boomers with money (in most of the campgrounds Winnie has visited down south, she was the small Chevy among the Caddies).
But there is one thing Americans are much less inclined to part with and that would be their Bill of Rights. It used to be not so long ago that Canadians would turn their gaze south and ponder whether the troubles in America perhaps stemmed in part from an over zealous love of free speech and guns for everyone. This American view of how it should be was always different than Canada's "peace, order and good government". But, while Canadians seemed content with their self-satisfaction over the years, something strange and alien was seeping under the back door, spreading like an Omnicron, replacing Canadian niceness with a blanket intolerance. This alien fog spread over the entire spectrum, from left to right, moderate to extreme, and like the Omnicron, is not the least bit fussy about who it infects. Suddenly, if you don't agree with "the view", you are on the outside looking in, an enemy of the entrenched elite (you know, those who know whats best for you and won't hesitate to tell you so). Is this how Canadian democracy will come to die, in a wilderness of petty virtue signaling and intolerance?
From down south, CrossCountry Bob watches the once abundant polite Canadian becoming rarer by the day. Even the Americans have noticed (and it takes a lot (a lot!) for Americans to even remember that Canada exists, let alone be interested). When CrossCountry Bob left Canada on January 9 part of his blogging plan was to write about democracy in America. But in an ironic twist, it is Canadian democracy on the table. Maybe the Americans will send us their inventory of these for deployment in Ottawa and wherever the locals become restless…
Meanwhile, back to Tubac, for there is abundant life not to be smothered. There is creativity and beautiful art, far away from the twittering crowd.
But was there a dark side to Tubac? After some hours of the festival, the image of a cold beer would not leave CrossCountry Bob's thoughts. And with that cold bottle of beer at Tubac Jack's Saloon, why not some nachos in Tex-Mex land? Turns out the beer was cold but the nachos would certainly be nominated by CrossCountry Bob and Paintin' Peggie as the "worst ever".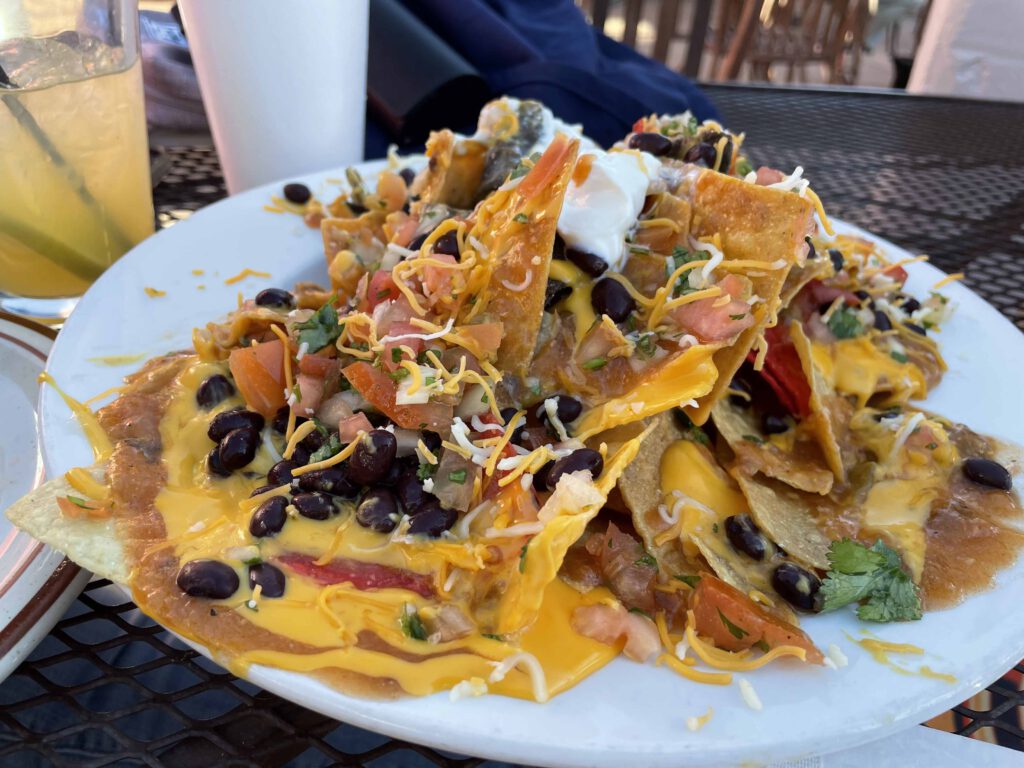 And where was Winnie during this time of great art and bad nachos? Well, after the first night in a dump that impersonated an RV campground, Winnie settled into a pleasant boondocking site about 5 km north of Tubac (boondocking – the art of camping for free on federal lands). The price, of course, was unbeatable and the desertscape could not be priced, especially in the early morning light or an approaching sunset.
As a side note to dawn and dusk, one thing Paintin' Peggie has taught CrossCountry Bob is how certain light best enhances nature and as a result CrossCountry Bob's appreciation of natural beauty is way up. Bonus points to Paintin' Peggie!
Tubac had one other feature that CrossCountry Bob was particularly fond of and that was sunny, warm weather (shorts and short sleeves to be specific). After cold Sedona, a pleasure. Biking into the hills consumed parts of several days, exploring the desertscape and waving at the frequent present border patrols.
But even the warmth could not hold Winnie for too long and after some days of Tubac's art and always fascinating Americana, Winnie was becoming restless.
With Tubac in the rearview mirror, Paintin' Peggie turned her attention to bakeries. You may recall that Paintin' Peggie has a keen eye for a bakery and in the town of Patagonia (population 972) she found a winner.
For the record, it has been noted at times that Paintin' Peggie in a Patagonia bakery is an amazing replica of CrossCountry Bob in a wine shop. She knows what she likes (he knows what he likes), she buys what she likes (he buys what he likes ), she eats it (he drinks it). All an integral part of the cycle of life of Winnie in America.
Once the baked goods inventory was reduced to the satisfaction of Paintin' Peggie and CrossCountry Bob, it was on to Karchner Caverns State Park. No actual caverns for CrossCountry Bob and Paintin' Peggie (dark, damp, batty, and crawling with Americans with smart phones) but it was a nice spot for Paintin' Peggie to be inspired for plein air painting. And it was also a nice spot for Paintin' Peggie to lead CrossCountry Bob off the grid (again!) on a trail supposedly okay for mountain bikes but not…
Paintin Peggie, it has to be said, has this endearing propensity of not quitting something once started, and when it involves mountain bikes and trails, well, it has to become a mountain goat trail before Paintin' Peggie yields.
To CrossCountry Bob's relief, the climbing trail eventually became impassable to mountain bikes and it was turn around and back down; a careful descent into the growing dusk which of course hid the rock that ambushed the front tire of CrossCountry Bob's bike. Down went CrossCountry Bob (hating that moment when he realized there was no recovery and there was nothing to be done but brace for landing). CrossCountry Bob did brace and missed the plentiful cactus spines by a fraction. The just as plentiful rocks made up for that narrow escape by providing a hard hello to his left palm and a smack to the left knee. Nothing severe as it turned out, but CrossCountry Bob's knee was not happy.
The next day, heading out for a "short" hike, Paintin' Peggie says, "Why are you limping?" Eyes askance by CrossCountry Bob was sufficient answer. That knee kept Paintin' Peggie waiting on the hike from time to time as CrossCountry Bob was being careful not to turn tender knee into trouble knee.
The plein air course in Tucson that Paintin' Peggie had signed up for was now on the time horizon and a few days in busy Catalina State Park near the course location seemed just the ticket. But camping sites were scarce and then, Miracle!, a few sites were suddenly available and Paintin' Peggie snagged one of the sites online. Arrival turned that miracle to dust as the extra "sites" turned out to be a group gravel site converted to cozy RV slots complete, as it turned out , with droning generators and free radio music from Winnie's neighbour.
Peggie took a picture of it all from the hill behind and called it the O.K. Corral; our version of nearby Tombstone thought CrossCountry Bob except there would be no Wyatt Earp showdown for Winnie (maybe wise since there were no guns in Winnie but there certainly were in a few of the American RVs as a casual conversation with a camper or two revealed to CrossCountry Bob).
And now, for those of you who persevered through this blog and CrossCountry Bob's diversion into the state of Canadian democracy, a few photos of Winnie's continuing escapades…