The writing of this post started way inside the "La Ruta del Cares" (the Divine Gorge), with CrossCountry Bob perched near the edge (almost literally).  CrossCountry Bob and Paintin' Peggie were two hours into hiking the gorge and it was a sketching and rest stop before the hike out.  While Paintin' Peggie sketched, CrossCountry Bob tapped valiantly on his iPad, cautiously keeping his vertigo in check by not looking up from the keyboard too rapidly…'cause if he did that…whoa, it was a long way down and CrossCountry Bob's close companion called vertigo would immediately become very unhappy…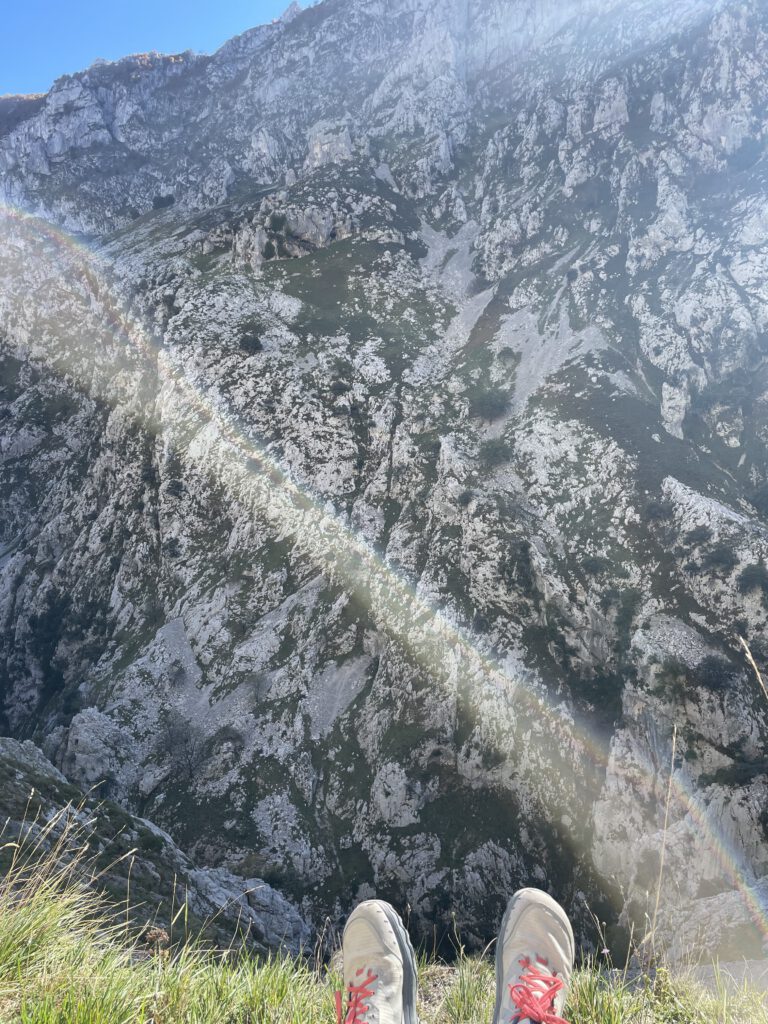 But this post isn't about the Divine Gorge…that comes later.
For CrossCountry Bob, Spain has previously been southern Spain, a hot, dry place with paella and beaches and lots of Moorish architecture mingled with the Christian Spanish churches. Well, the northern part of Spain (just south of the Pyrenees) is not so hot, not so dry and no paella to be found. A different kind of Spain, the edge of Basque country. Filled with winding, narrow roads leading to farms and little villages. And CrossCountry Bob and Painltin' Peggie stayed in one of those little villages – Estello – a cluster of stone houses, tile roofs, population maybe one hundred (in a good year). Just what CrossCountry Bob and Paintin' Peggie ordered up for a few days, stone floor included…
What to do in such a village besides reflect on "this sure ain't Canada" ? Well, that's easy, start with a walk about to check out the village (that takes maybe ten minutes at 1 minute per house) and then go for a hike up the small mountain behind the village for a sweeping view of Estello nestled in its valley…
Not far from Estellos is a protruding mass of conglomerate rock towering above the village of Riglos. These rocks attract sane people (Paintin' Peggie painting the rocks) and crazy people (see the rock climbers in the photo below) and, of course, CrossCountry Bob who looks at the rocks and then wonders if they make wine in Riglos (they don't, so CrossCountry Bob parks himself at a picnic table in the churchyard and works on his blog while Paintin' Peggie draws – a beautiful balance.
After CrossCountry Bob and Paintin' Peggie were done painting and blogging in the shadows of Riglos, the next stop was calling and it was time to drive west, towards…where?? Well, with CrossCountry Bob behind the wheel, a good guess would be??…more wine country perhaps? Yes! And a bottle of Spanish wine is the prize to those who figured that out one step ahead of reading it (small print: you must come to Spain to collect your prize as pictured below)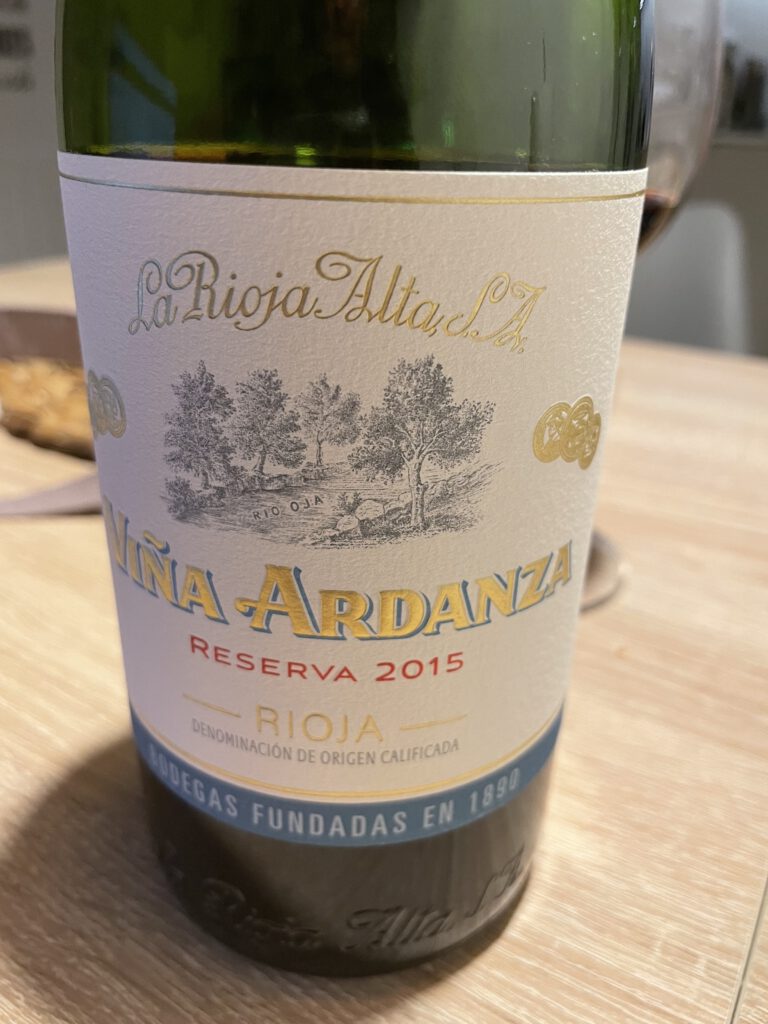 What wine region is in norther Spain? The famous Rioja region, over a hundred years old and first rising to prominence when the French vines were decimated by a cute little aphid-like bug (grape phylloxera) that hitched a ride to Europe from North America around the middle of the 19th century. The Bordeaux wine merchants were forced to import raw wine from Rioja and age and bottle it in Bordeaux (so the French wine makers maybe aren't as pure as the tales they still spin, thinks CrossCountry Bob). The grape phylloxera wasn't fussy about vine location and Rioja soon went through a similar devastation. Recovery, as in Bordeaux required the use of North American rootstock which was relatively immune to the grape phylloxera. The important point to note as far as CrossCountry Bob is concerned is that the Spanish knew a good thing when they saw it and the vineyards and bodegas (Spanish wineries) today sprawl across the Rioja region
All those vineyards (65,000 hectares) produce over 250 million liters of quality Rioja wines (and that word "quality" is not local spin but rather the considered judgement of CrossCountry Bob after much direct sampling). And the price! It staggers the imagination of CrossCountry Bob that a 8 euro bottle (as in $10.50 Canadian) is as much quality as CCBob requires (meaning great taste, smooth drinking and a pleasant accompaniment to the local tapas). True, you can spend 20 euros for a modest Grand Reserva and wow yourself (as CrossCountry Bob did of course) but it truly is not necessary (at least for CrossCountry Bob's wallet sensitive taste buds).
To enjoy all this bounty, CrossCountry Bob and Paintin' Peggie chose Haro, a town nicely positioned to explore the region (meaning driving and walking exploration by day and eating tapas and drinking Rioja wine by night)
There was one required detour for CrossCountry Bob to the nearby town of Santa Domingo de la Calzada which is a well known stop on the El Camino de Santiago. There were signs, there were statutes, there were Alburgues (where pilgrims sleep)…but…no pilgrims. Wrong time of day figured CrossCountry Bob (it was early afternoon). Off and on CrossCountry Bob has considered doing the El Camino but having seen the long stretches of flat, not so interesting terrain to be crossed in central Spain, CrossCountry Bob is currently "off", especially after checking out this sign…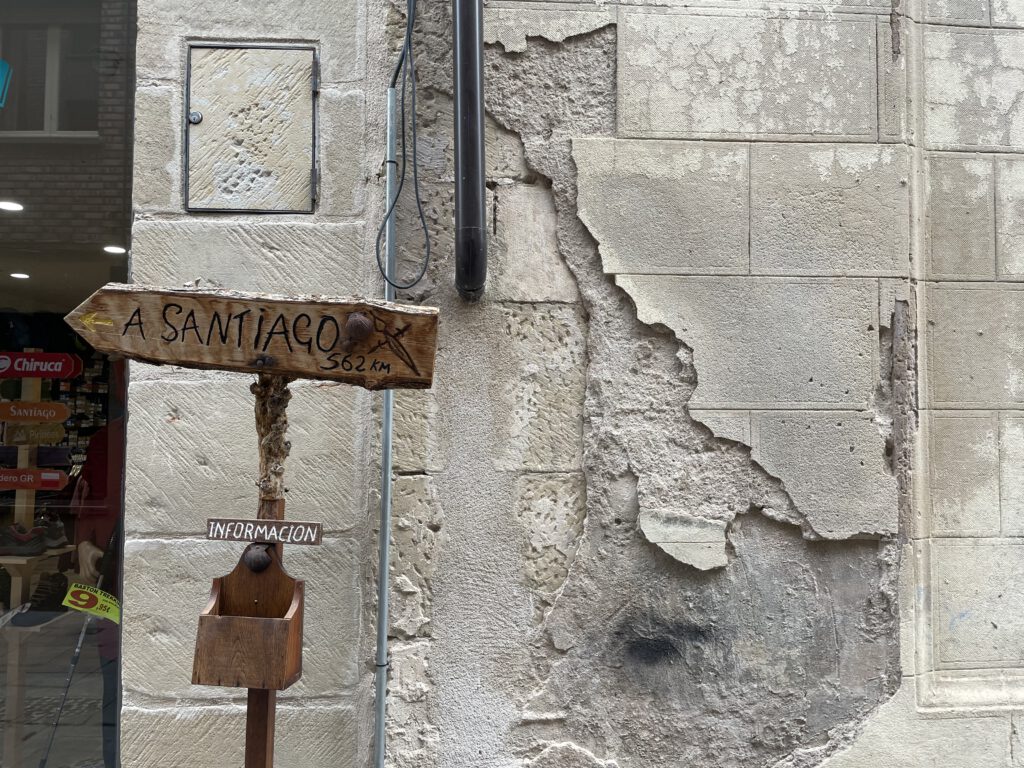 Santa Domingo was an interesting pueblo for a bit of shopping (Paintin' Peggie found a biking jacket) and CrossCountry Bob (as usual) found nothing, but he was tempted by the shopping cart the Spanish abuelas favour…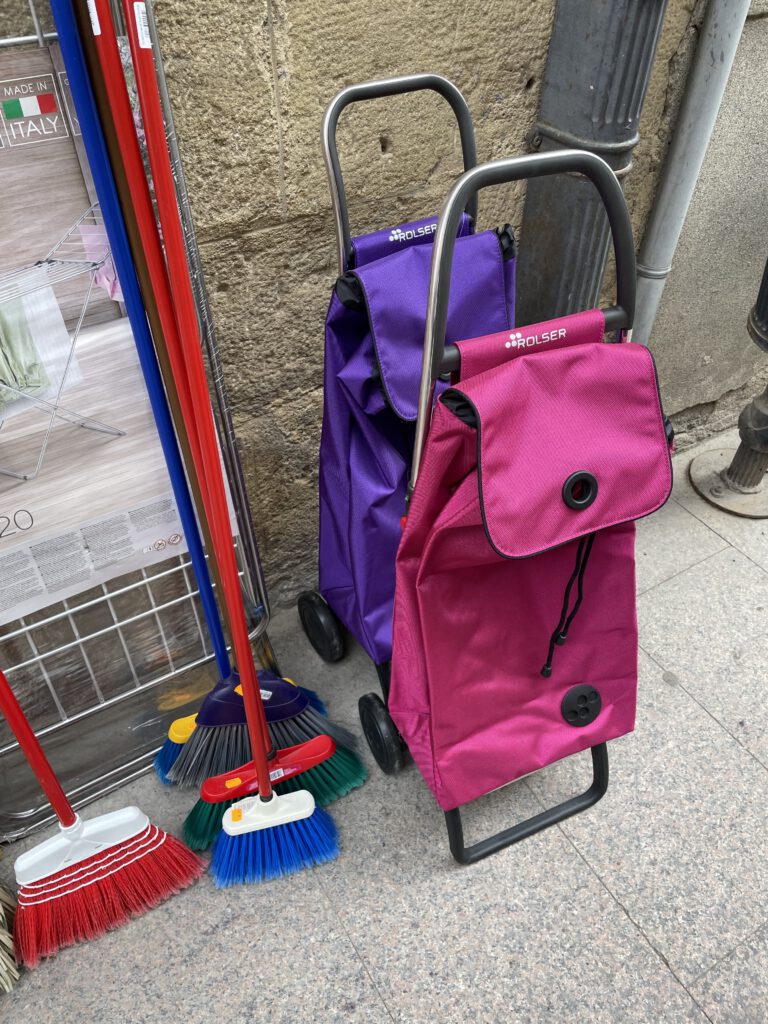 For the wrap, it was a cafe con leche (CrossCountry Bob's second favourite drink in Spain). While sipping that cafe con leche, CrossCountry Bob noticed that a Spaniard loves a lottery ticket as much as a Canuck…
And then the wine adventure is contentedly slotted into the "fun and interesting experience' compartment as Paintin' Peggie and CrossCountry Bob turn their attention to the ocean. The "Oceano Atlantico" as it is referred to around here, draped up against the coast of northern Spain. Actual destination: the pueblo Llanes, Principado de Asturias. There is hope that the fine weather tracking the travels of CrossCountry Bob and Paintin' Peggie will continue. We shall see.