Where to from Organ Pipe National Monument? Paintin' Peggie wanted to paint around the erosion sculpted red rocks of Sedona. So Winnie went north. A pit stop at a boomer RV park in Cottonwood for laundry and those types of mundane items. Then onward. There was one concern creeping into the best laid plans – the high desert – north was higher elevation and that meant colder. Well, how cold could it be in Arizona? Turns out plenty cold..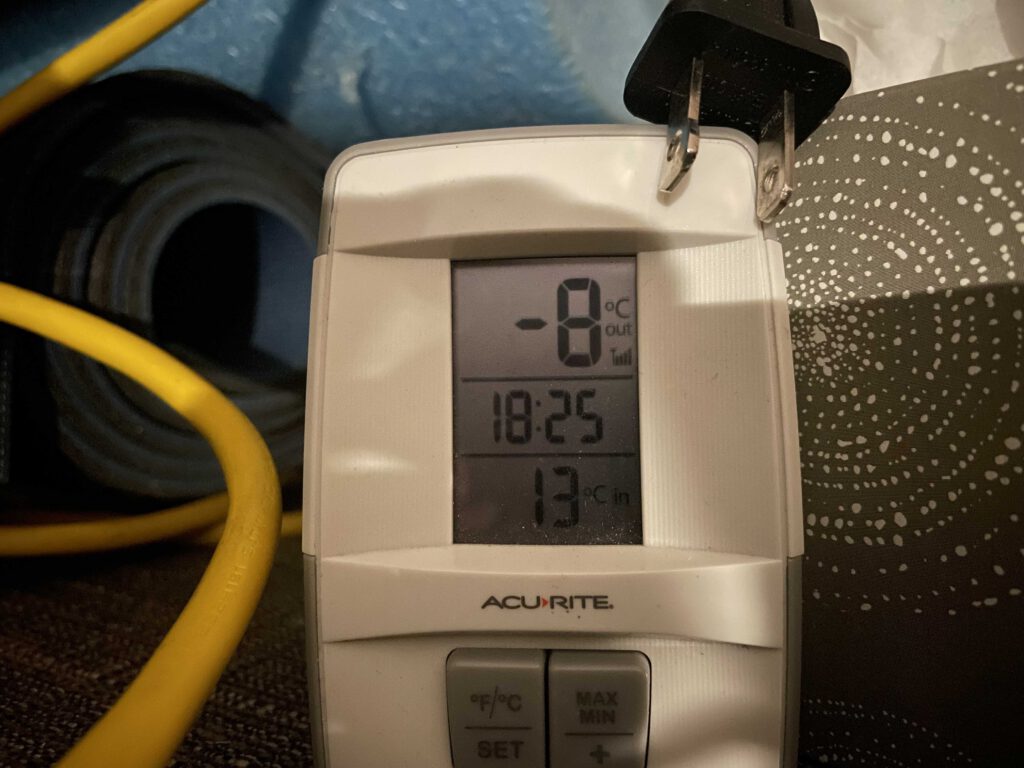 Winnie was cranky about the water lines but for one cold night she tolerated it.
During the day the high desert warms so CrossCountry Bob and Paintin' Peggie carried on, being careful of the wind (as in cold wind) that seemed pervasive. Not to be deterred though, CrossCountry Bob and Paintin' Peggie checked out Jerome, an old copper mining town up in the hills (colder even). It turned out to be a town pleasantly reborn as an art and craft town. Paintin' Peggie had fun. CrossCountry Bob stayed mostly in the sun, staying warm while hunting for Americana.
After Jerome, it was another overnighter in the brisk air, then on to Montezuma Castle, a national monument area. Looked like a fine place to live at one time, probably the high rent district with the peasants down below on the valley floor working the fertile river valley and taking the arrows from whatever invaders happened by. And always watching out for the flash floods that also drop by from time to time (this is an occasionally far too much water type of desert).
After Montezuma, Winnie rolled north into Sedona – a reputation for beauty well deserved. But tourist dollars and hikers everywhere take the shine off for CrossCountry Bob and Paintin' Peggie (both are "less people please" types). Now that can be a problem with snowbirds and their RVs littered across the land but the resourceful duo solved that by going boondocking along a forestry road, locating a spot with great painting views and no neighbours (your average snowbird with an RV tends to be allergic to settling in where there is no power (horrors!), no water (oh, how to cope) and no cable TV (perhaps the worst of all, especially for those boomer RVs with TWO TV's). For CrossCountry Bob and Paintin' Peggie, as long as the cold of night was held at bay by Winnie's furnace, their boondocking spot was premium grade with class A painting potential.
There was the cool air of course, but the compensation was a sunrise.
But eventually enough is enough when its warm you want (after all, Winnie didn't come to Arizona seeking cold) and it was exit south, braving the freeways through Phoenix (busy and fast) and then Tucson (not so busy and getting warmer). South of Tucson was the next destination – Tubac. What is in Tubac (besides warmer weather)? If you guessed a town of artists, galleries and lots of retired American snowbirds, then you have figured out why Paintin' Peggie and CrossCountry Bob are stopping there.
Next post will be the Tubac adventure and a helping of Americana, Tubac style.
As always, some photos to finish with…