There was no avoiding it. If you keep driving south along the Oregon coast, California eventually arrives. Did you know that the economy of California is as big as the entire Canadian economy. CrossCountry Bob was always impressed by that; it is enough to give a Canadian an inferiority complex…except that…who wants to live in California (sun, sand, money, glamour, big cities, polluted, homeless, crime…notice the downhill trend?). Some Californians appear to have noticed as there is a net outward migration the last couple of years towards states such as Texas Seems to be part of the tide of human affairs, reaching a pinnacle (in this case, economic), and then down the other side.
Meanwhile, outward migrations aside, saying that the California coast road, Highway 1, in northern California is windy is like saying the sun shines. Its true but it hardly tells you much. Winnie's steering and brakes got a workout and Paintin' Peggie's camera was close to overheating. Around every corner was another winner view.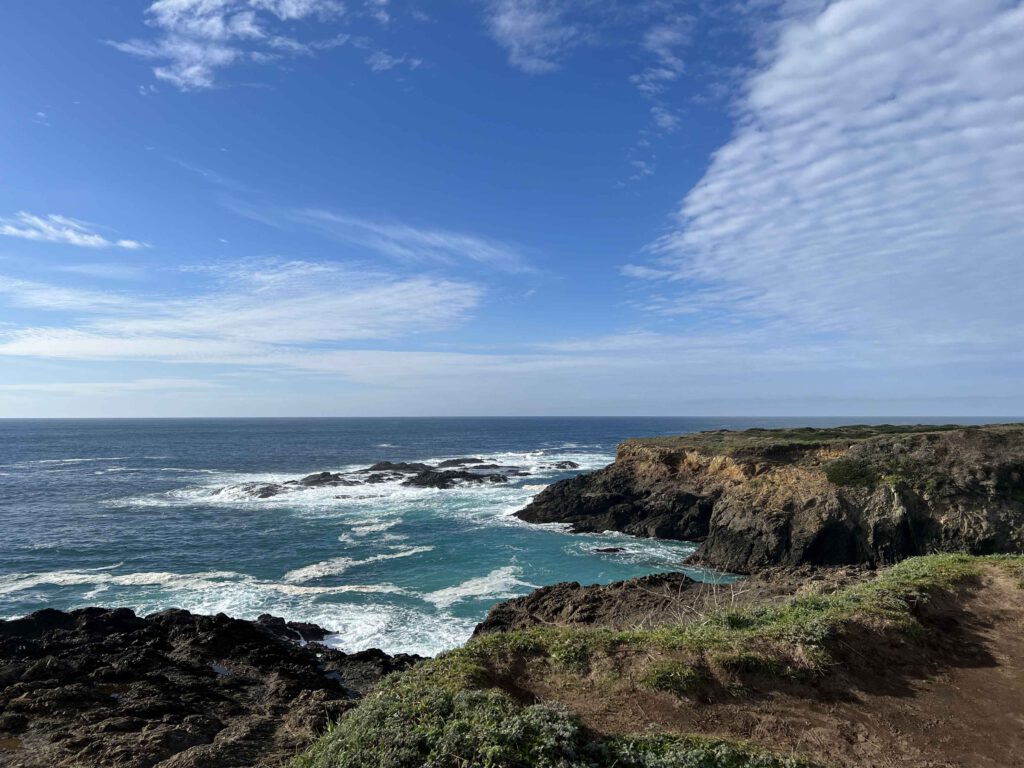 And not forgetting the redwoods which were actually before that narrow coast road began. Every time CrossCountry Bob sees those redwoods, he is impressed. Probably due to that little bit of a forester still hiding inside him somewhere. Paintin' Peggie was certainly thrilled to hug a redwood!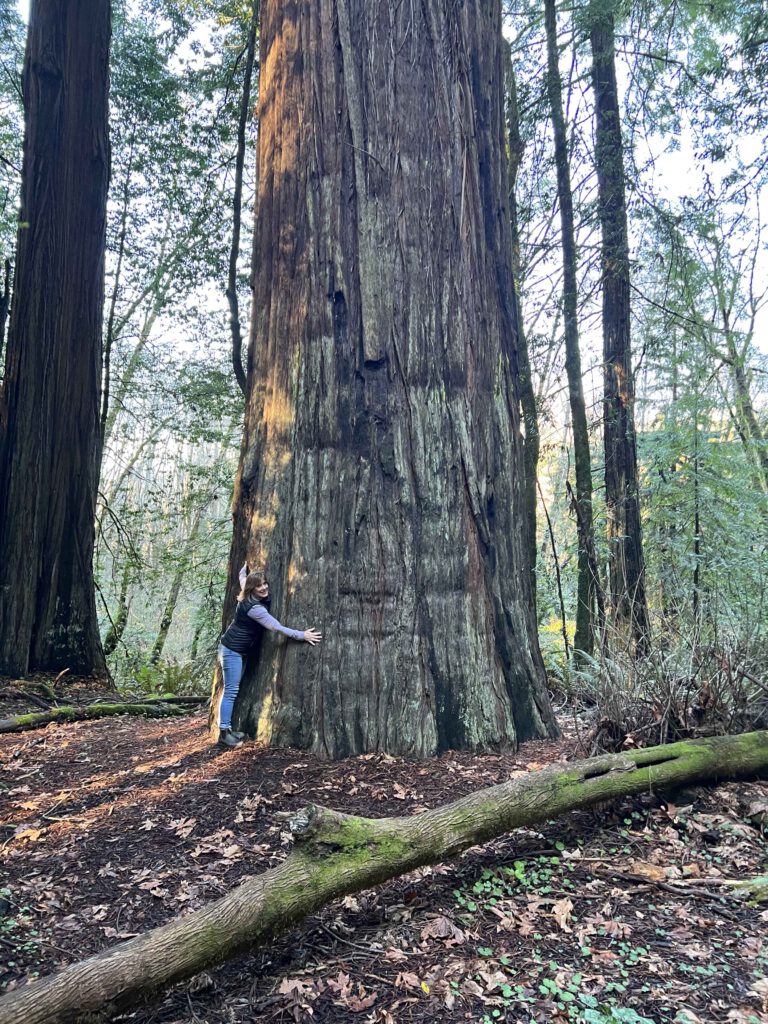 Winnie's first campground in California was not the ideal advertisement for California Parks. Just the opposite maybe. Deep in those redwoods. Dark, dark place. And that would be okay if you liked dark forest canopies, but in winter the maintenance guys are apparently on extended vacation (but not the fee collector – full fees of course and a price to make BC Parks blush). Now that is a turn of events – the USA costing more than Canada.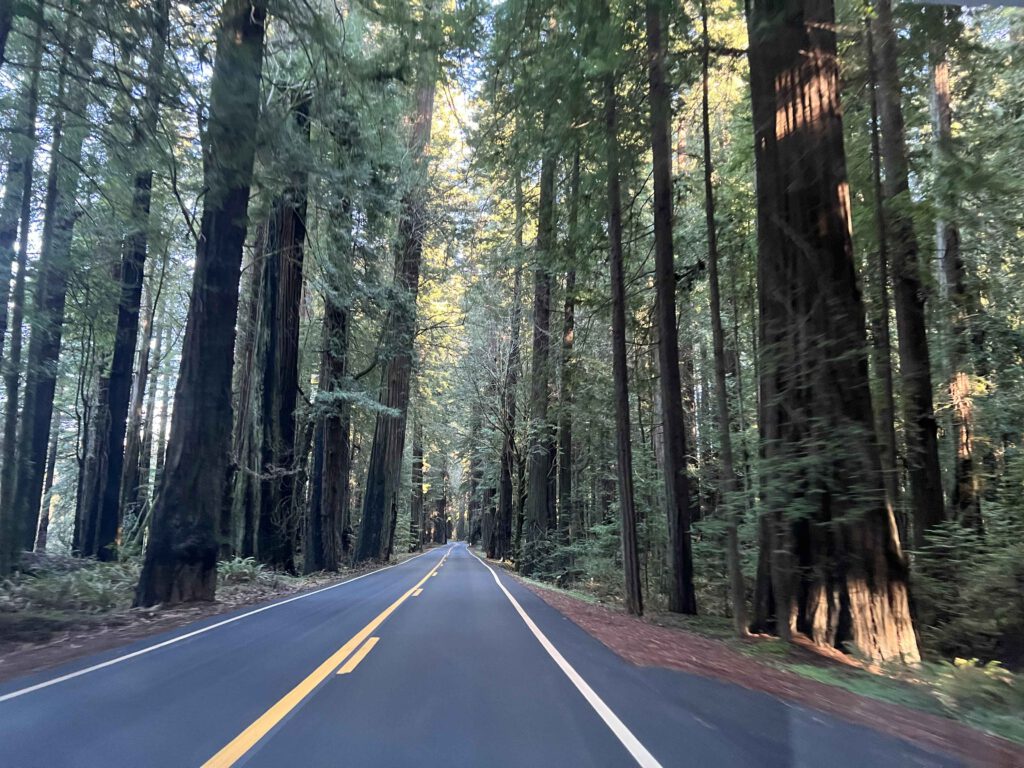 But CrossCountry Bob digresses. Where was he? Oh, yes, Winnie was heading down Highway 1 and on some of the high cliffs, CrossCountry Bob was sometimes wondering what a front tire blowout would mean (bye bye Winnie & Company?). But, tires intact, Mendocino appeared out of the ocean mists. A nice spot with that classic history of a logging boom town (remember those redwoods) and then a slow fade to not much of anything and, eventually, a metamorphosis into arts, crafts and tourism. While the coast north of Mendocino/Fort Bragg (the ugly duckling of the pair) is virtually deserted in January, this changes to the south. For one thing, CrossCountry Bob noticed an increasing frequency of BMWs and Audis, piloted by youngish drivers with premium shades. Perhaps the Silicon Valley money oozing north? (figures CrossCountry Bob). And my, my they do love their masks in California. In some spots its an outdoor fashion accessory. But no matter the passing changes in the minutiae of human affairs, the sunsets keep on coming and there was a premium one of those just outside Mendocino and that is where Winnie settled for a night to just enjoy.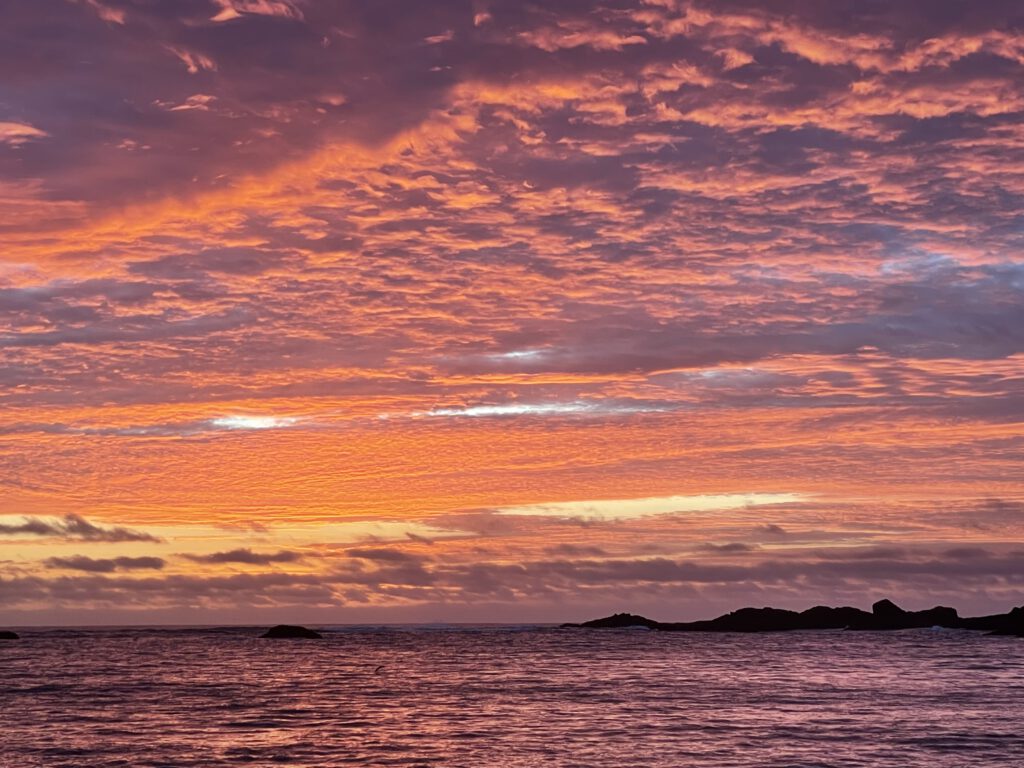 After that sunset and a good sleep, Winnie continued south towards Bodega Bay but pulled in just north of there at a state campground called Wright's Beach; the maintenance guys were still missing in action (but not the fee collector of course), but the campsite made that mostly irrelevant. You can see the campsite spot from which Cross Country Bob wrote this post (sunglasses and hat required to defend against that lovely sun).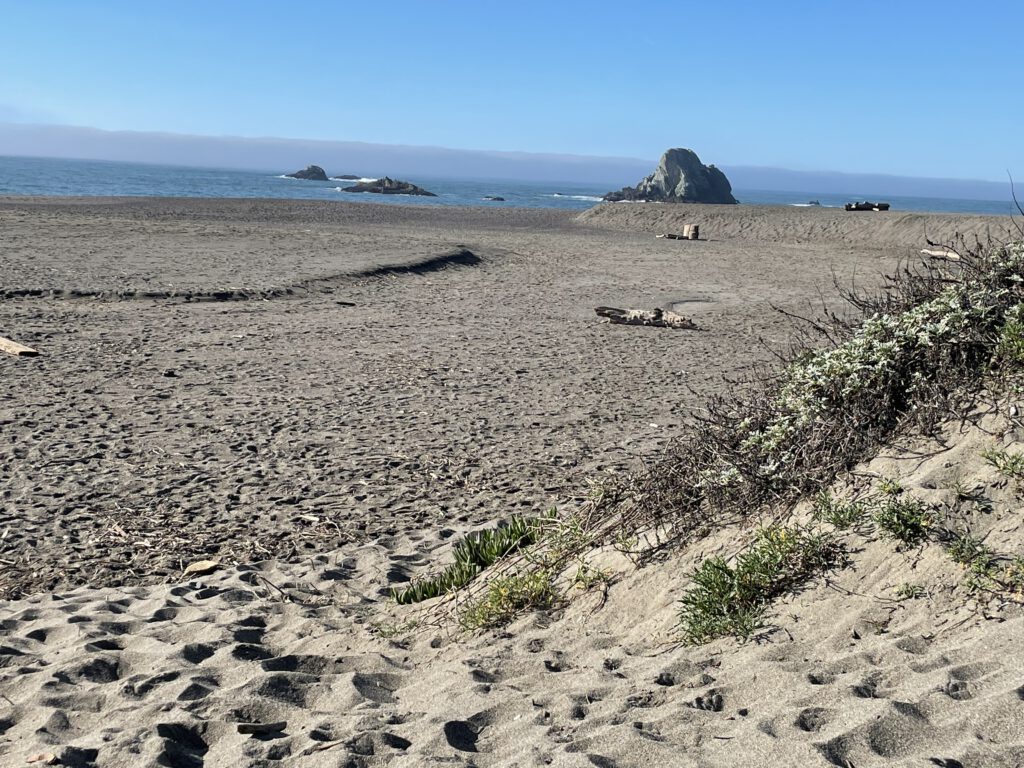 Beachfront camping is sweet for sure and the living is very fine at Wrights Beach with the clear skies and warm sun. Not to say it was all things fine as Winnie found the campsite sand soft and inviting and she wanted to sink right in…
CrossCountry Bob made it out – just (if not, oh how deflating, was it a call to the American Automobile Association for a tow?). Well, CrossCountry Bob has learned a few lessons along the way and one is to always, always trust your gut when it comes to taking a chance or not. Then why, in this instance, did CrossCountry Bob not listen?…some things have no answer. But saving grace – using another of those few lessons learned along the way, CrossCountry Bob deployed Winnie's leveling blocks as traction pieces and Winnie eased back out (skillful driving by CrossCountry Bob?). Uh, no. That's yet another of the few lessons CrossCountry Bob learned – don't take credit for getting yourself out of a jam you put yourself into.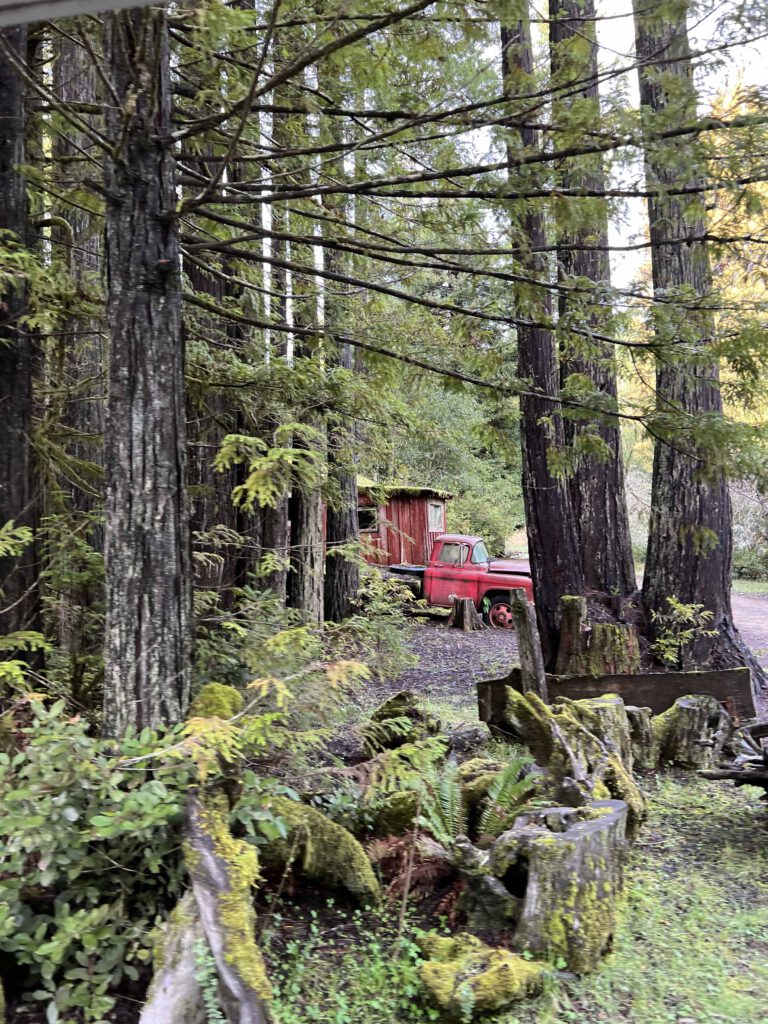 And now, the last days of ocean are upon Cross Country Bob and Paintin' Peggie. Decisions must be made on the inland route. But that is for later. Paintin' Peggie is painting outside (plein air painting they call it) and CrossCountry Bob is writing this but at the same time sneaking thoughts about the oysters that he will pan fry for dinner (after being prepped by Paintin' Peggie using a dynamite recipe from Fannie Bay Oysters on Vancouver Island). Gin and tonic beforehand of course. What else did you expect?
O Oysters, said the Carpenter,
You've had a pleasant run!
Shall we be trotting home again?
But answer came there none –
And this scarcely odd, because
They'd eaten every one.
from "The Walrus and the Carpenter" by Lewis Carroll
And some more photos along the way…