With Chiricahua and its snowy surprise fading in the rear view mirror, Winnie motored happily to a lower elevation. There was more Water on the Road but Winnie merely slowed to walking speed and rolled on through.
CrossCountry Bob was amazed at how some drivers did not slow much, obviously used to the situation but perhaps not familiar with the expensive engine repair that would result if those fountains of tire spray sailed into their engine air intake. Well, we each have our problems and many seem determined to increase their load through ignorance or otherwise (a little philosophy by CrossCountry Bob, sorry, he can't always resist even though he himself is far from immune to ignorance (or just keeps doing dumb things, take your pick)).
Meanwhile, Winnie was headed for Kartchner Caverns State Park, an old haunt from last year. The large limestone Caverns were out, reservations to enter running well into April, but CrossCountry Bob and Paintin' Peggie were not much interested in any event ( the caverns in southern Spain and the prehistoric caves in southern France seemed more fascinating but, hey, maybe that's CrossCountry Bob doing a bit of rationalizing because he wasn't able to tour Kartcher Caverns). Wintering in southern Arizona does come with flocks of snowbirds after all – and it seems enough of them were smart enough to make reservations well in advance.
Caverns aside, the park had two sparkling attributes that kept CrossCountry Bob and Paintin' Peggie happy. First, four reserved nights with power and water (keenly appreciated after the chill of Chiricahua and, as it turned out, a happy happenstance as you will see). Secondly, a couple of interesting hiking trails (presumed CrossCountry Bob, soon to be set straight by Paintin' Peggie). The hiking trails had become a primary requirement ever since Paintin' Peggie's ebike went missing in action in Tucson and made mountain biking trails redundant.
The weather at Kartchner was much improved, reaching 22 degrees in the afternoon. The Americans were all settled in…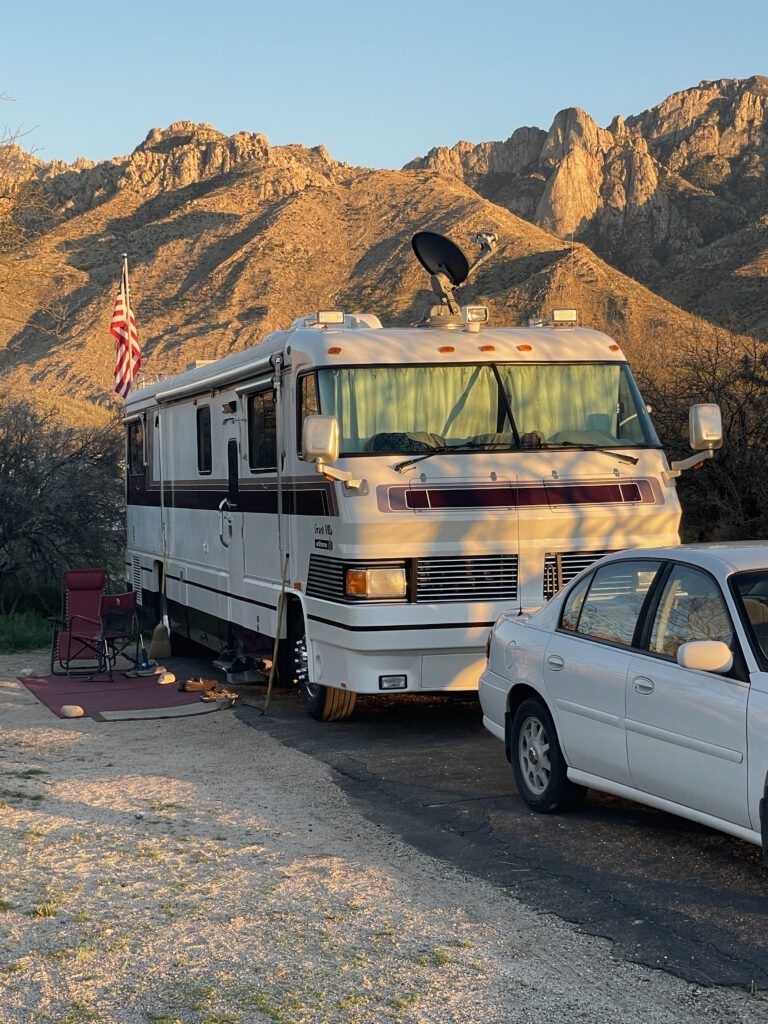 CrossCountry Bob and Paintin' Peggie had no flag accessories but were ready to hike. CrossCountry Bob had checked the trail map and had it figured (he thought). Five miles all in, a perfect distance. Starting out, the trail seemed familiar. As CrossCountry Bob and Paintin' Peggie climbed up and away, the trail turned out to be the very same one the very same intrepid hikers had completed the previous year without being too much impressed. Needless to say, Paintin' Peggie was even less impressed this time around (very much annoyed would be more accurate, probably even annoyed enough to turn CrossCountry Bob to this if she had Harry Potter's wand: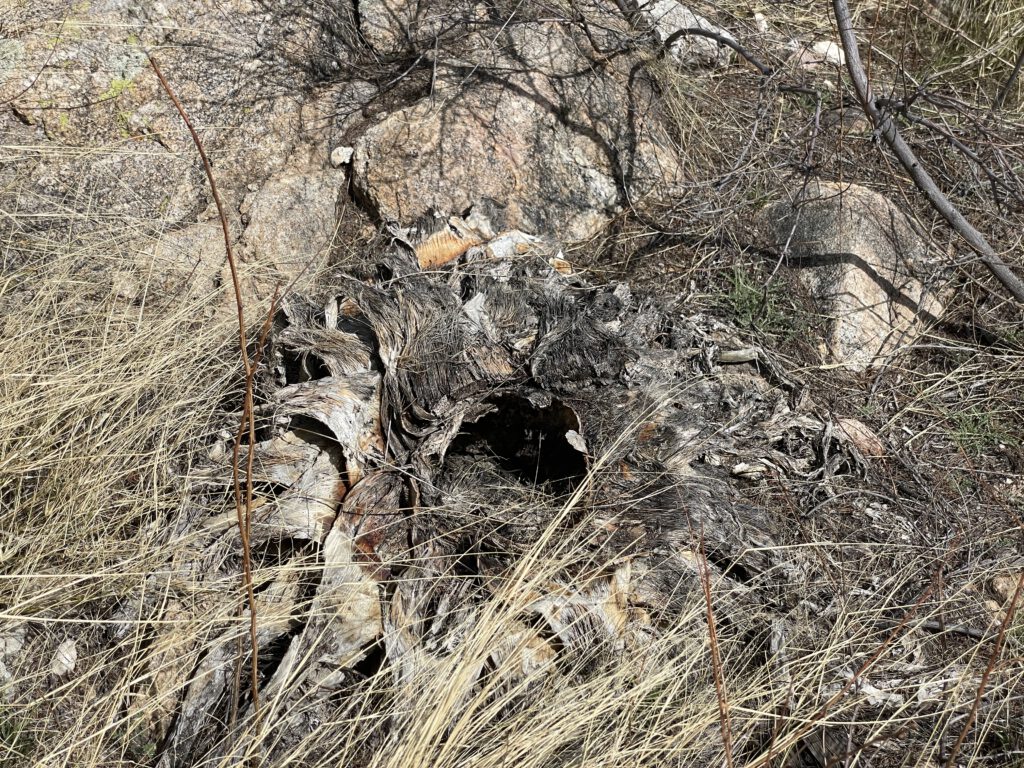 But, wishing fire and brimstone on CrossCountry Bob aside, the reality was that reversing course was dumber than going forward (said CrossCountry Bob and Paintin' Peggie actually listened), as the trail would eventually intersect the "Other Trail" (that being the one Paintin' Peggie had wanted to be on to begin with (oh, CrossCountry Bob, how did you mix up those trails on the map (easily it turned out as CrossCountry Bob's boy scout map reading skills were more than a bit rusty). Note to self: Study the map itself more closely and pay less attention to the poetic exaltations that pass for trail descriptions.
Perhaps to the surprise of Paintin' Peggie, the trail intersection CrossCountry Bob promised actually showed up when he said it would, and then up and away Paintin' Peggie went on the "real" trail with CrossCountry Bob tagging along behind (not his day, apparently). From that intersection (with 5 km already in the bag), it was a further 6.8 kilometre loop way, way up, around the back and then tracking back down through a canyon busy with boulders. Fun times for all (even CrossCountry Bob) at first, a nice trail up with grand views of the valley.
CrossCountry Bob was tired near the top and Paintin' Peggie (bless her compassionate soul) offered to turn back. CrossCountry Bob thought about that (a lot), but then determination prevailed over logic and sore knees, and CrossCountry Bob said "keep going" and they did. Up to the summit (not too bad it turned out) and then down the other side of the loop through the boulder filled canyon and much harder going.
By the bottom of the canyon, the persistent signals from tired legs and sore knees lifted slightly as, like horses returning after a day on the trail and then smelling home, their pace picked up as thoughts of runners off and feet up took hold.
Well, once CrossCountry Bob and Paintin' Peggie were back at Winnie, all was right with the world; the gin and tonic was a rewarding elixir and paired with Miss Vickie's jalapeño potato chips, well, there were sighs of tired relief with no complaints from the gallery. With that perfect combo in place, what could go wrong? Well, the weather (of course). Storm incoming (again? Yes.). One of the storms tracking through California had apparently decided it would be fun to rush across the Arizona desert and torment the snowbirds. Well, how bad could be it be thought CrossCountry Bob. "Urgent wind warning" said the US weather office, winds of 40 mph with gust to 60 mph. Hmmm, thought CrossCountry Bob.
By bedtime (barely made 9 pm that night – excuse is the hike if you must know) , the wind was up but the real stuff wasn't due until after 11 pm (said the weather office with an accuracy pretension CrossCountry Bob found, well, surprising).
Around 11 pm, CrossCountry Bob woke to some shaking and buffeting. A few gusts, but not too bad. The weather office was wrong about the intensity (hoped CrossCountry Bob), after all the weather office is wrong as much as it is right). Turns out this time it was right more than it was wrong, just an hour early. From midnight on, the wind was relentless with gusts that shook Winnie meanly and snatched at the tarp convering the slideout. Inside, Winnie was a howling echo chamber that kept Paintin' Peggie awake, eyes wide. CrossCountry Bob figured the tarp was a goner as it snapped hard back and forth. And then the snow started sometime around 3 or 4 am, blowing sideways – a blizzard in the desert! CrossCountry Bob dozed fitfully. Paintin' Peggie didn't (doze or sleep). But by morning, the wind eased and sunrise displayed a blanket of white. Temperature: minus 4 centigrade outside. Plus 18 inside Winnie with the heater cranked up.
The folks in nearby Benson said it was the most snow they had ever seen in one dump and for the month of February was a record total (Kartchner received much less snow than Benson that night, lucky for Winnie and occupants). But by evening, the desert sun had finished its work and…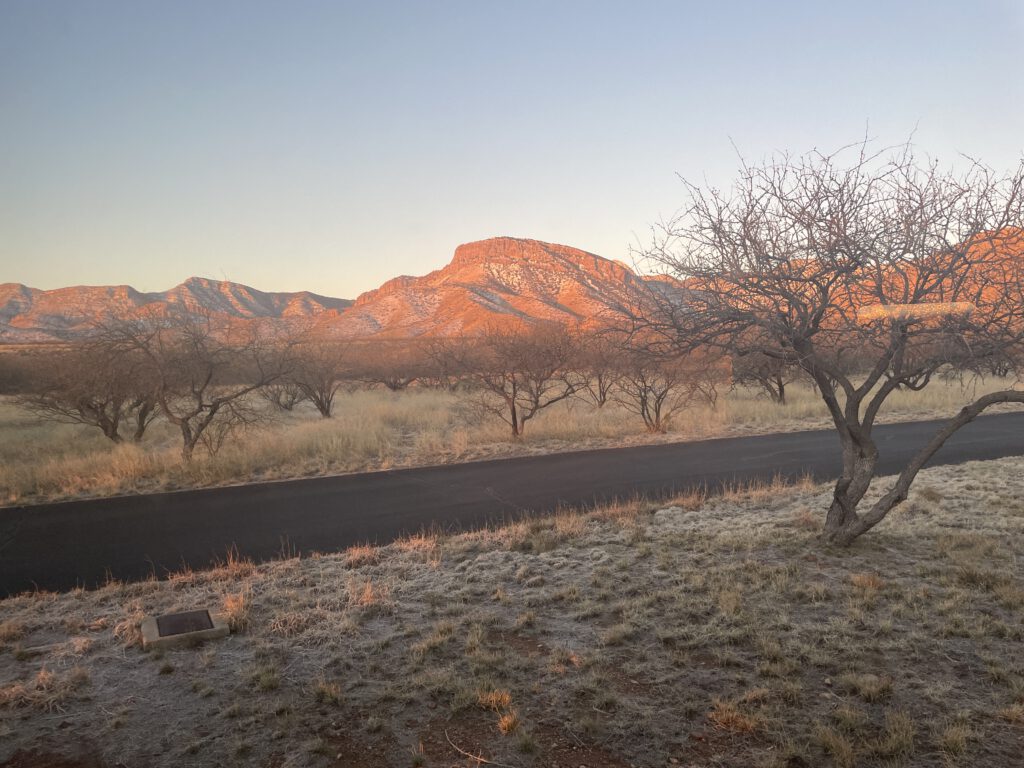 Well, apparently CrossCountry Bob has some knack for picking (bad weather) camping spots with uncanny timing (this aptitude for timing not always applicable to his efforts in the stock market however).
None of this is by way of complaining it must be noted. Just reporting the weather as it happens (it would be a treat if the news media tried that on occasion); oops, don't stray there warned one reader. Why ruin a good travel blog with politics? CrossCountry Bob suspects that reader is right. So, Winnie (who, unsurprisingly, doesn't care about politics), moved a few miles north to the town of Benson and stayed a couple of nights in a private RV resort with full hookups and a laundromat! That was a pleasant respite and so was Benson itself, a town of approximately 5,000 with a lot of very nice people, quaint little thrift shops (Paintin' Peggie loved those) and a café with the best pecan cranberry hot cakes that CrossCountry Bob had ever tucked into.
After Benson, it was southwest to Patagonia, home of Ovens of Patagonia Bakery which, last year, had imprinted itself on the brain of Paintin' Peggie due to the best lemon slice cake ever. Arriving in Patagonia, it was all systems go – weather -very fine; shops and art galleries – open (no Covid limitations like last year); Ovens of Patagonia Bakery open (it was Sunday). And then, what's this? Hardly any bakery items and customer tables where the shelves of unique and eccentric merchandise once stood. To say Paintin' Peggie was more than disappointed would not be an exaggeration..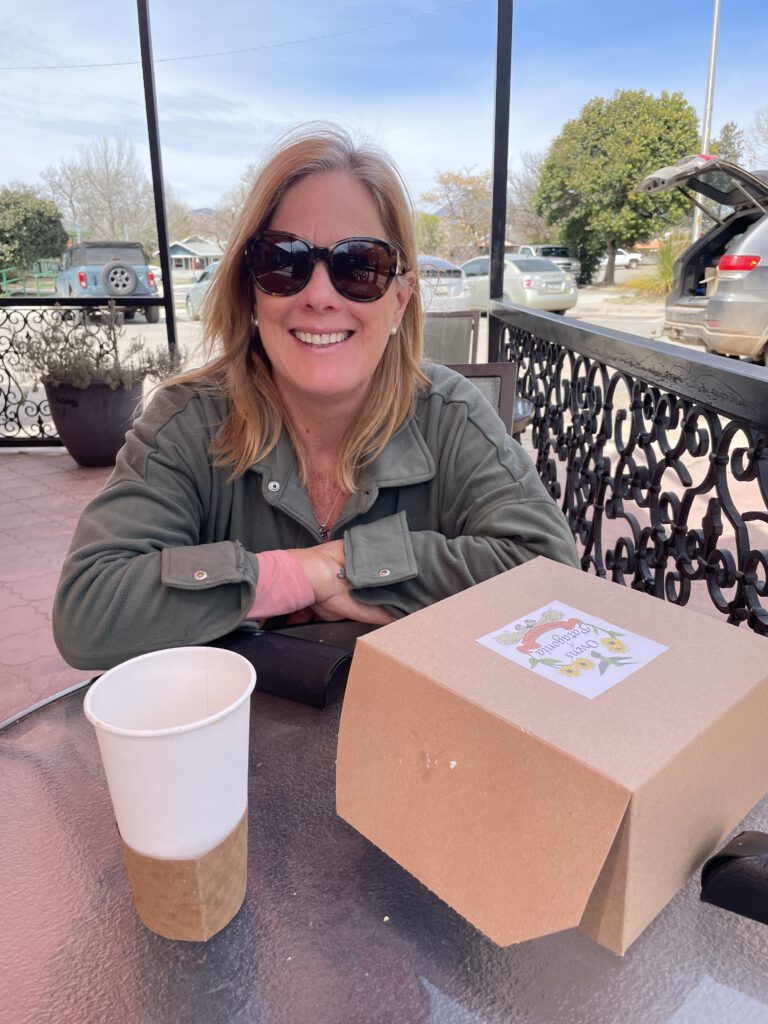 Paintin' Peggie recovered with a chocolate chip cookie while CrossCountry Bob contented himself with a quite adequate cinnamon bun (turns out Ovens of Patagonia Bakery had been sold and the new owners were, well, cut from a different cloth).
The town of Patagonia itself was still fun to explore, more so because this year there were no Covid restrictions and the shops and galleries could be freely browsed, no problems.
The nearby Patagonia Lake State Park was Winnie's station for the next two nights and that campsite was maybe cut from the same cloth as the new owners of Ovens Bakery. In Canada, Patagonia Lake would qualify as Patagonia Puddle (but in southern Arizona you takes your water where you finds it). Paintin' Peggie especially loved the aroma of the inexplicably located effluent processor (say no more) The area is famous for bird watching and Cross Country Bob found that interesting. He saw his first Northern Cardinal (brilliant red, wow!), followed up by a Vermillion Fly catcher (intense red breast, also wow). Too entranced to take a photo, it was Paintin' Peggie to the rescue with this shot..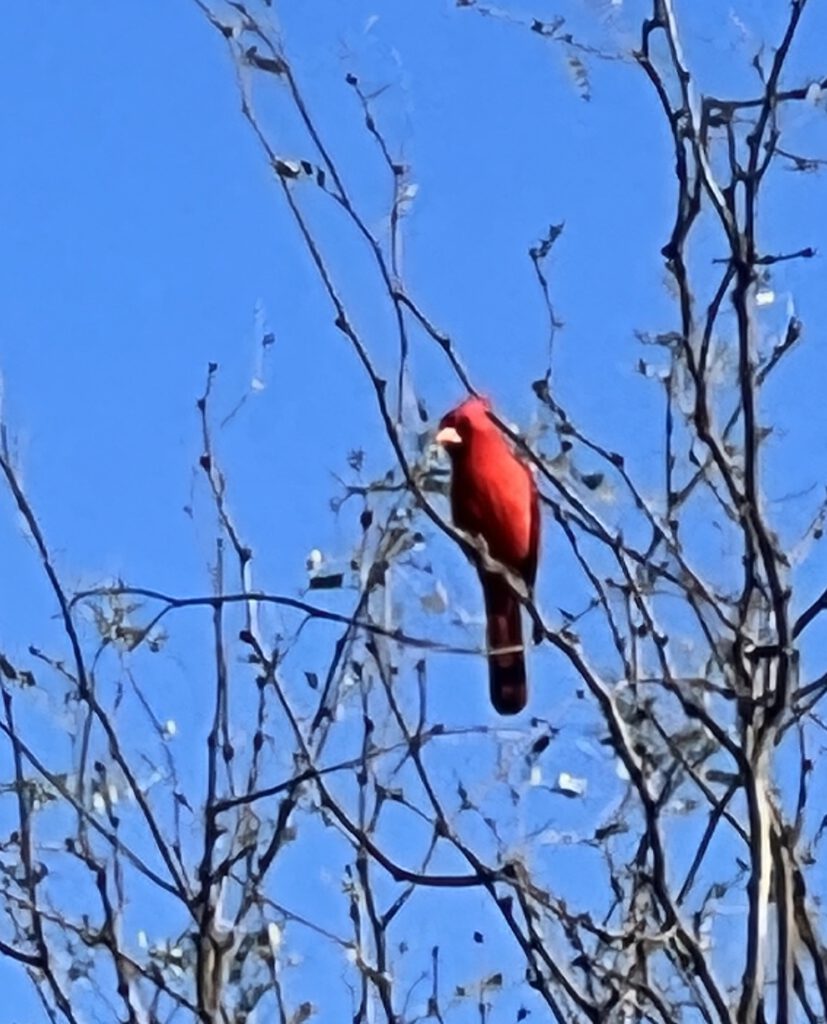 Not to give Patagonia Lake too bad a rap, the bird watching was fun (so many birds in such a small area (says the brochure and that means its true (yes?)…even if CrossCountry Bob didn't spot many…
and the evening lake view was peaceful…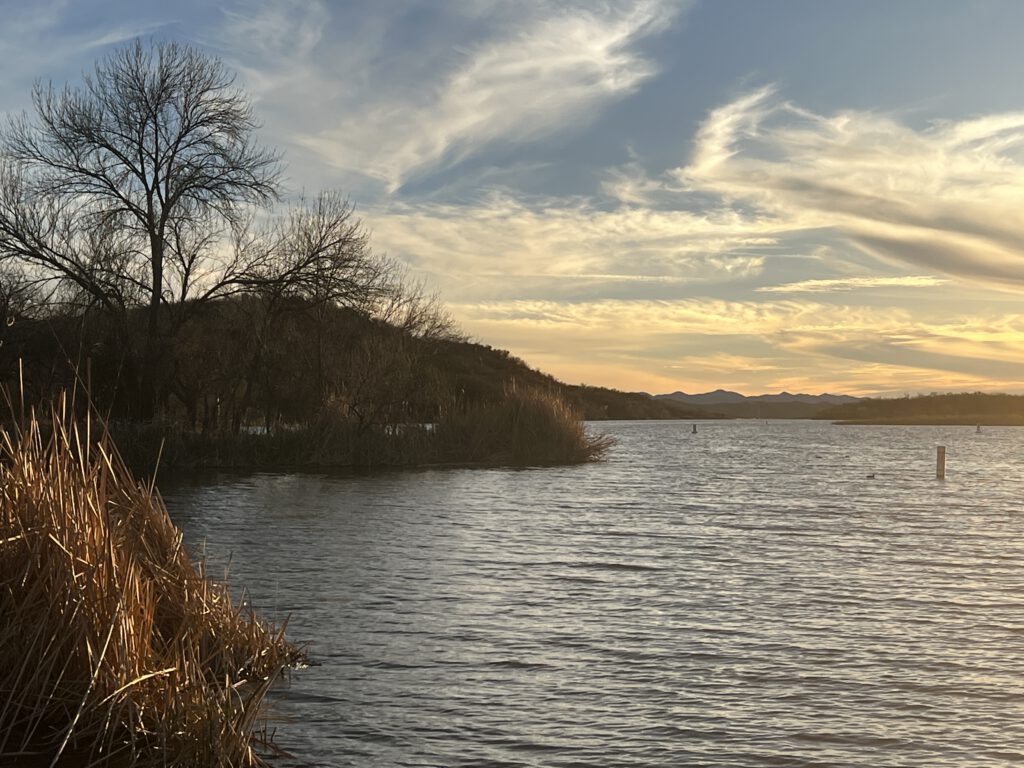 Leaving Patagonia Lake on a warm but cloudy morning, CrossCountry Bob and Paintin' Peggie made a pit stop in nearby Tubac (an artist colony for sure and maybe a place to stay for a month or two next winter). The galleries are certainly interesting…
With the Tubac refresher done, it was onward to Catalina State Park northeast of Tucson (no longer the favourite Arizona city of CrossCountry Bob as bike thieves live there, damn it).
Ebikes aside, there are rumours that some desert flowers are blooming in the Catalina State Park area. See you there.
And the latest from the grand baby files: